Would you like to positively reach the entire membership of your local Realtor Association or Home Builders Association for free with just a few hours of your time?  What if you got the Association's staff or an affiliate member to positively spread your name and company at the same time?
I was able to do just that recently with an idea that anyone can use in their area – take good pictures that capture the people, places, and activities at an event and make those photos available to the members later.
I provide marketing support for a team of loan officers in Oregon.  With rates currently low, refinancing constitutes a significant portion of most loan officers' production.  Eventually rates will rise again and this source of loans will decline.  Purchase loans should be a sustainable part of any loan officer's business.  That means establishing good relationships with Realtors and other referral partners.
As part of our outreach to the real estate community, we participate at local Realtor and Home Builder Association golf tournaments.  We may have a team of golfers, sponsor a hole, or provide branded merchandise with loan officer business cards attached.  The goal is to be visible, network, and get to know current and potential referral partners to be top-of-mind with them.
I took this networking idea a step further.  In late July we sponsored a hole at the Douglas County Association of Realtors Golf Tournament in southern Oregon.  When golf teams came by our hole, I gave them branded and packaged golf tees with loan officer contact information attached.
More importantly, I also took each team's picture, making sure that there was a nice background.   Several golfers gave me their business card so that they could have their team's picture sent to them later.  Before and during the tournament I also took pictures of the grounds, preparations, people, and activities.
A few days after the tournament ended, I downloaded and edited the pictures.  The photos were uploaded to a free PhotoBucket account, one of many photo sharing websites available.  The photos were organized, labeled, and tagged.  This is a lot easier to do than you might think from just reading about it.
Once the photos were ready for viewing, I e-mailed the Association's Executive Director and included links to the Realtor golf tournament's pictures and a slideshow.  The Director forwarded the e-mail to the tournament organizers and many of the participants.  The page view count rose as people viewed the pictures online.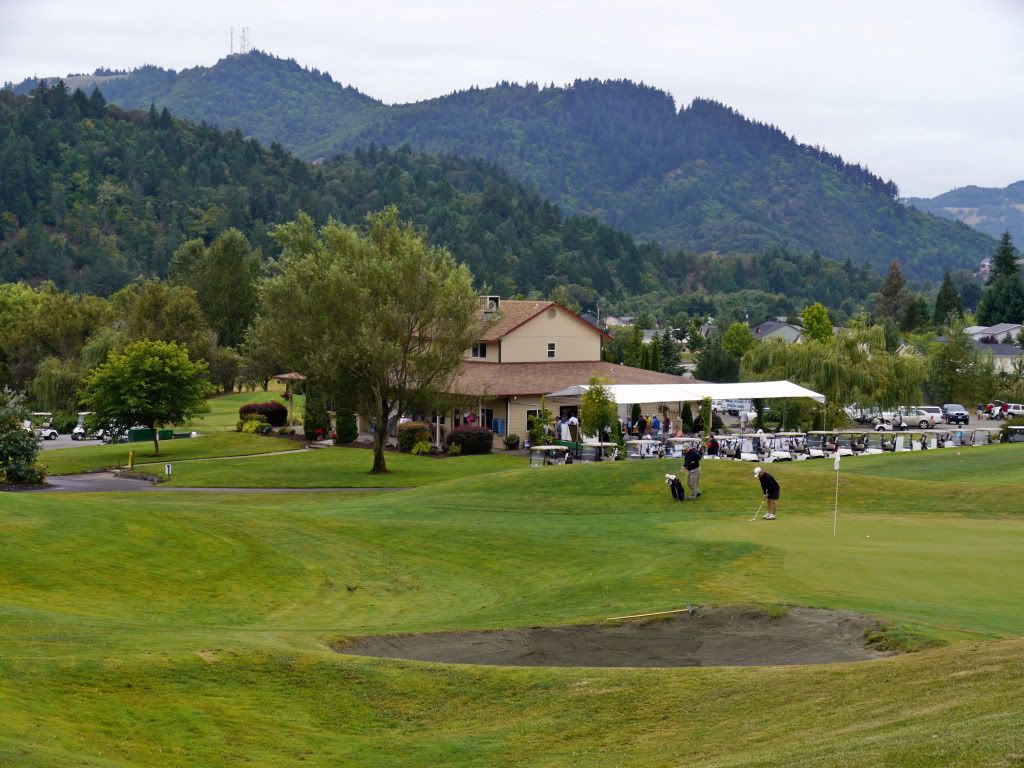 A sharp title company representative also saw a marketing opportunity and contacted me for permission to make prints of the golf team photos.  She sent the photos to each golfer in a window envelope with a note from her and giving me photo credit.
A few weeks later, we sponsored a hole at the Home Builders Association of Lane County (OR) golf tournament near Eugene, OR.  We did something similar with taking and posting the photos.  The slideshow near the beginning of this article is from that tournament.  This time the association forwarded my e-mail to the entire membership, including builders and affiliate members, with a note that said in part "Thanks to Rick ... for taking care of photos at the tournament—he did a great job!"
Will this generate new referral relationships and additional purchase loans by itself?  No.  But it will help to keep the loan officers "top-of-mind" with our referral partners.  It also helps to forge stronger relationships with the associations' management and officers.  This is helpful when it comes time to talk about offering mortgage financing classes to members, sponsoring future events, and other mutually beneficial activities.
This marketing technique doesn't have to be company level or even real estate specific.  Loan officers, Realtors, and other professionals can do this for any event where the members are potential referral partners or customers.  It's best to communicate what you're doing prior to the event, try to tell a story with your photos, not interfere with the event itself, and get as many quality pictures of people as possible (with their permission).
Use a good quality camera and take pictures that people will want to see and keep.  Crop and edit the photos later with this in mind.  If you don't have a good camera, take good pictures, or are comfortable editing and uploading pictures, consider teaming up with someone who does.  He or she will take care of the photography aspect.  You can take care of communicating the results to those who might be interested.  Linking the good photos to you in the minds of your prospects, and letting them know what you do and how to reach you, is what you want to accomplish.
The association or organizations appreciate the value-added service of quality photos showing their members and the event.   Many participants will appreciate having pictures of themselves as keepsakes.  The photos may be used for publicizing future events or shared on the organization's website or social media pages.  You can share the pictures or slideshow on your social media sites or write about it on your blog.  The value of the photos and your involvement can last well beyond that day.  A picture really can be worth far more than one thousand words.
UPDATE - The contents of this post will be included in a September 2012 issue of Loan Officer Magazine.
Rick Obst is an Arizona native who moved to Eugene, Oregon in 2005 and fell in love with the verdant Pacific Northwest.  He enjoys photography and discovering the many people, places, and events that make this part of the world so special.

To learn more about Eugene, Lane County, and western Oregon, visit 365 and More Things to do in Lane County, Oregon on Facebook.  You'll see hundreds of pictures and links to discover the beauty and attractions of this special area.